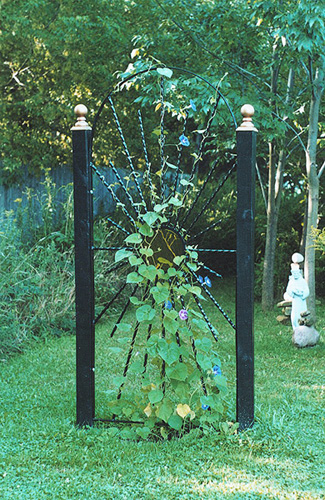 Patrick's Projects began in 1999 as a home-based hobby.
A welder by trade, Patrick began producing metal garden ornaments per special request from friends and family. In the beginning, production equipment included a hand bender and welding equipment and the production facility was our garage. In 2000, the official Patrick's Projects shop was built.
Located at 3664 Route 20A, between Warsaw & East Aurora; Patrick's Projects is convenient to both Buffalo and Rochester.
Patrick's Projects fabricates hand-made metal work that is artistic yet practical. Our ornamental metal products have the look of wrought iron, without the high cost.
Every piece has a one-of-a-kind look. Whether it be a staff, plant stand, fence, or trellis each metal item is constructed to be attractive, durable, and long-lasting.
Expect to find plant stands, shepherd's hooks, staffs, rose pillars, bird baths, and heart stands throughout our line of stocked, standard products.
Want something a bit different? Then explore our custom metal projects. Find made-to-order metal work like trellises, arbors, railings, fences, sign brackets, flower boxes, and mail box stands.
Take it one step further...need an entrance gate? Have a stone top that needs a metal base? Have a mirror that needs a frame? Want a unique arbor for that special rose bush? Much of our custom metal work comes from customer-provided designs or ideas.
Patrick's Projects has found a niche with commercial customers as well. SignLanguage (Perry, NY) and Select Door (North Java, NY) have used Patrick's metal designs to complement and enhance their product lines.
Contact us at (585) 786-0946 or stop by when traveling to and from Letchworth State Park!